People are delighted to find the best holiday party dresses for their next Christmas parties or holiday activities in the coming year. You like preparing for the holidays, and one of your favorite hobbies at this time of year is looking for Christmas party dresses. With so many lovely designs to select from, these festive gowns will exceed your expectations. Prepare to stand out from the crowd in these lovely gowns for any occasion, especially the day of the Christmas party or any other time you're celebrating.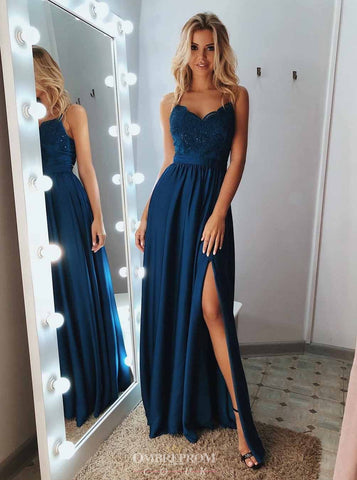 Christmas is an excellent occasion to attend a party, and you will need the appropriate attire. This dress is composed of satin and will make you feel sexy with its sleek appearance and elegant appeal. The nightgown includes spaghetti straps that will provide a gentle touch to your shoulders while letting you move freely. The A-line shape flatters all body types, from slender to voluptuous. The natural waist accentuates curves nicely. This blue gown with A-line lace appliques will make you feel like a princess with its elegant design.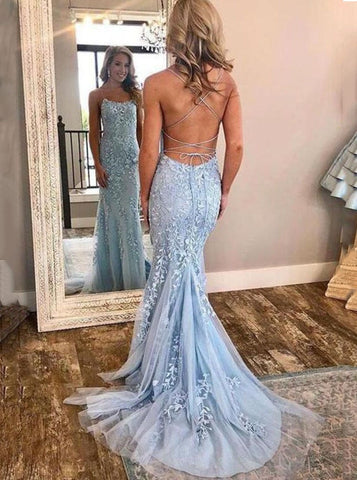 The Light Sky Blue Prom Dress with Lace Appliques is one kind of dress that will be ideal for your event. This prom gown includes spaghetti straps and a bright sky blue tint. The fabric is tulle, and it has an embellishment around the waist for added flair. It's really comfortable, breathable, and fits any body type perfectly. Tulle fabric is a popular option because of its delicate feel and airy nature. In this stunning holiday gown, you'll feel like a mermaid princess. It also includes a backless style, which means you won't feel too constrained in your dress as you wander about the party.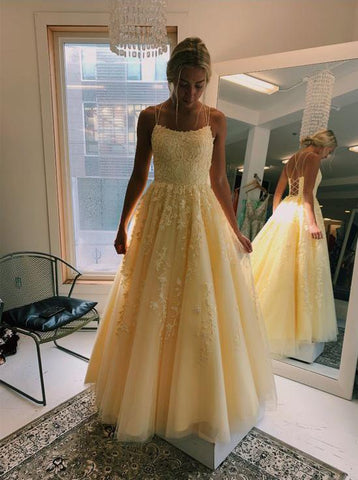 This long, lovely gown includes spaghetti straps and a charming appliques. It's crafted with a lovely tulle fabric that caresses your curves perfectly. The floor-length hemline allows you to dance without fear of falling down the aisle. It features an A-line silhouette, no sleeves, and lovely embroidery on the bodice and waist to complete the sophisticated design. This stunning gown is ideal for any event you may want it for. This dress ca
n be custom colored to match your skin tone and size for the perfect fit.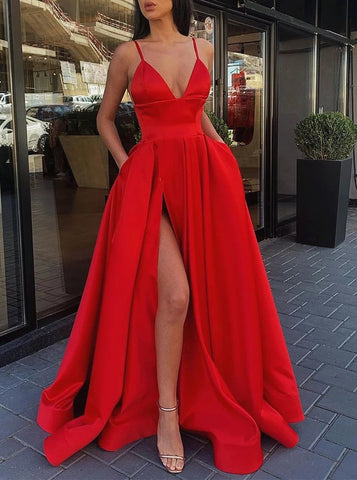 The red long prom gown is an excellent option for your Christmas party. This dress, with pockets and a split, is ideal for people who desire the perfect combination. This dress is composed of exquisite satin that is smooth to the touch and has a v-neckline and sleeveless design that will make you appear like a Disney princess. This exquisite evening gown has a floor-length hemline and a lovely A-line shape. This gown is available in a range of colors, including black, white, navy blue, champagne, and many others.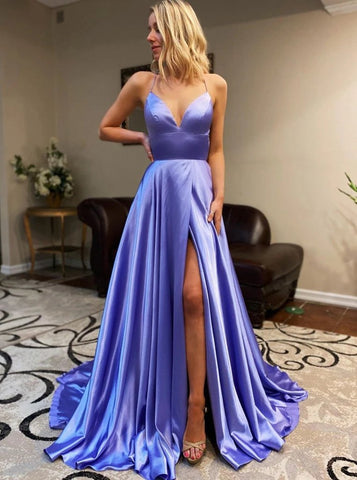 It's a satin long formal evening gown with a V-neck style. The neckline is fantastic since it doesn't reveal too much skin while still being attractive. The backless design is ideal for a Christmas party and gives both beauty and substance. This exquisite long formal evening dress features an elegant touch of femininity as well as practicality with its A-line style, without sacrificing beauty or charm. The gown was sleeveless with a split at the hem that gave it that lovely sweep train effect. This stunning gown is precisely what you need to get into the holiday mood. It adds an exquisite touch to this design while keeping it modern.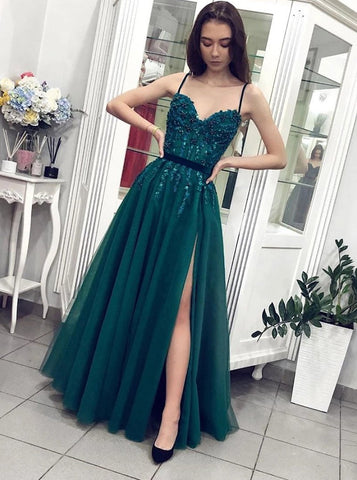 You've found it if you're looking for a green, spaghetti-strapped, beaded dress with a split on one side. This gown is made of tulle, which is a lightweight, thin netting fabric that has been fashioned into a gorgeous gown. This dress's green hue is gorgeous, and it makes me feel really elegant. It's ideal for any event. It's also the ideal length for dancing without tripping over my robe all night. The green color makes you feel wonderful, and it's ideal for any occasion. You'll like the dress's long length since it makes you seem so gorgeous. The nicest aspect about this gown is how beautiful it appears on the waist with the side split. You should also choose a style that suits your individuality while being current with fashion trends.